A logo is a visual representation of a company, group, or brand. It can be a symbol or an emblem. It is typically used to identify and promote a business or product and is often the first thing people see when they contact a company.
Logos can take many forms, including text-based designs, letter marks, emblem logos, and abstract graphics. They are often designed to be simple, memorable, and effective at conveying the values and identity of a business.
Logos can be used in various contexts, including on websites, business cards, marketing materials, and products. Your logo communicates ownership, quality, and values. It is imprinted on products, business cards, websites, social media, and, most importantly, clients' minds.
A leading logo design company in Mumbai believes that your logo will be the first thing people see when they contact your company. This is your chance to make an excellent first impression, demonstrate that you offer quality services, and visually communicate your purpose.
Why do businesses need a logo?
A well-designed logo builds trust, validates your professionalism, and encourages people to stay. It tells potential clients who and what you are and how it benefits them. It conveys to potential clients with no previous knowledge or experience in your business that you do outstanding work.
Your logo should look professional. This will make people question your ability to deliver your products or services. Did you ever click the back button or choose a company that looked more professional than another just because it seemed more legitimate? People may leave because of a bad design.
To make your logo stand out, to ensure that consumers remember you, and to cultivate positive associations with them. Logos are deeply symbolic and can be associated with people's emotions and memories.
As an illustration, let's look at . The swoosh, however, is just that: a swoosh. The connection to this symbol is about their vision to make the world better by running. This powerful idea defined their brand, and their logo conveyed that message, which allowed their business to flourish.
Your logo should be consistent with your brand marketing efforts over time. Invest in your logo design. It is what will make you more credible and draw customers in. Allow a digital marketing company to help you with your logo design.
Why You Should Invest in a Professional Logo Design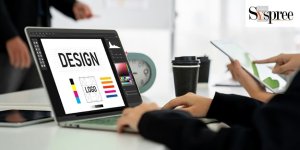 Logo Design is used to identify your business
To understand a logo, you must first know what it does. A logo is used for identification. A logo is used to identify a company or product by using a mark or symbol, a flag, a symbol, or a signature. A logo doesn't sell a company or describe a business.
Logos are used to identify your business, not to explain it. It is the only graphic reflecting the brand's style and meaning. It can say a lot, so it is important to choose the right one. The person who designs a logo plays a significant role in its success. You should hire a professional graphic designer, but check out their past work and get the best logo designing services in India.
You can feel more confident that they will design an outstanding logo if you have seen a lot of their logo designs. They are experts at this job. Let's look at the reasons professional logo design is a good investment.
1. The Right First Impression
You can have some things worth spending money on, such as your business costs. A well-designed logo will make potential customers more inclined to do business with your company.
Although you might believe you are the one who makes the first impression, in reality, it is not. Your logo is the first impression. Your profile is the first thing people see online. If they are convinced, they will call to get a quote.
A logo is often the first thing people see when they think of branding. It appears everywhere. It can be found everywhere, from business cards to brochures to a website. Customers and readers will only stay if the website appeals to them and reflects a professional image.
If your logo is cool and recognizable, your customers may believe that your products are cool. Imagine a logo for a law firm that is low-budget and pixelized. Will you get the impression it is trustworthy? You should keep this in mind states the most creative logo designing agency in Singapore.
2. Building Trust
It can be challenging to start a business. Keep in mind, however, that people will first evaluate the appearance of your product or service before they try it. A brand immediately generates trust with a professional logo design.
Strong brand identities can encourage people to be interested in your products or services even if they don't know much about you. As your business grows, it can help you build trust and loyalty. Companies can't fake authenticity and authenticity. Companies can't fake authenticity and genuineness.
Consumers expect high quality from brands they support. It's more than just a great product or service that strengthens this connection between customers and brands. There is no magic formula for creating a template that will make a logo. Nearly every industry has a unique logo design that is most trusted.
Different designs work in different industries. Therefore, to have your logo build trust, you need to understand what method works best for your product/service. It is important to work with a professional designer.
3. Invite new customers to get acquainted with you
It's not possible to live in a monochromatic environment. Exciting design and color are what people love. Your logo should draw attention to your products and encourage customers to look at them. Let the best logo design company in Mumbai assist you in getting new customers by creating an attractive logo.
4. You are different from your competition
.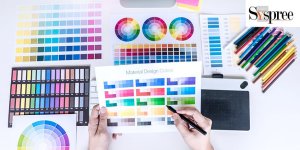 You are Different from your competition
Certain symbols are used to identify particular products or industries. How many pizza shops have you seen a logo featuring an Italian-mustachioed chef wearing a tall white hat with a big grin? Perhaps he is holding an enormous pizza. While a logo should reflect who you are, it should also be distinctive from everyone else. A great logo should be bold and different.
5. Brand loyalty is enhanced
.
A company may redesign its logo from time to time. This could be to improve their corporate look or reflect a corporate change. This is something to be understood by a marketer. Every business should foster brand loyalty. A well-known and trusted logo can help build brand loyalty.
6. It can be done everywhere
.
Your logo should be on every marketing material, packaging, product, social media, website, and other promotional material. This is a great way to promote your brand and message everywhere. Once you successfully tied your brand message to your logo, everything you do and create will be associated with that logo.
You have milliseconds to grab someone's attention in a world filled with hundreds of brands daily. Professional logos created by a brilliant digital marketing company will help your brand be remembered for future promotions of your blog or business.
Each logotype is unique and requires a different flow. Designers must consider many elements, such as brand mission, values, and competition, and set the suitable visual composition, including optical balance, color selection, and the critical component.
It is essential to consider more than just the visual appearance of a logo. You should also consider the possibility of creating a visual brand identity and implementing that brand identity on promotional materials.
You can get the complete brand guide, which is consistent with brand standards and communicates professionalism to your customers, depending on what you need and the service agreement with the designer.
8. The Right Files for All Branding Materials and Platforms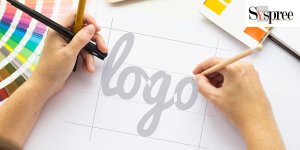 Right Files for All Branding Materials and Platforms
A professional logo designer will not only do market research but will also design your concept. This will prevent your website from looking pixelated or blurry and reduce the chance of printing different colors.
If you create your designs using Canva or another graphic design software tool, the final files will differ from the correct ones. This is because they limit their design options. Illustrator allows the vectorization of graphics, which is what professional designers use. This means that the graphic's geometric shape can be adjusted when you resize it.
You may still need clarification. If your logo and materials are not quality, people won't trust you and will not pay you for your product or service. In the end, you will need to hire a professional designer.
9. Longer lifetime
Professional designers create a logo design that lasts. If your logo is different from what you wanted, changing it will be optional. Rebranding can be an option when your business changes or you target a diverse audience. But the original design needed to be stronger.
Rebranding is a popular option for big brands that have been around for a long time. Let's use Coca-Cola as an example. While the brand's basic design does not change, the logo is updated to reflect modern trends. Rebranding is a brand revival that builds on solid foundations.
10. The right assets
When you invest in a professional logo, once the client has approved it, you will receive all the files you need to start your project. The files include the following file formats: horizontal, vertical, mono, complete color variations, and files that are specific to CMYK printing and web use.
It is important to have a good relationship. Although it can be confusing, they will always be able to recommend the best asset for your application. These points should have helped you to see the value of a professional logo design.
Brand loyalty and trust are two of the most critical aspects of the business. Professional logos will make a lasting impression and will reinforce your brand message. Fantastic logo designing services in India can help you tailor your professional logo for your business.
11. Design by a Professional
Designers of logos have years of experience. They can identify what colors work and don't, what colors go with what, and what shapes look best together. They have a strong desire to see others succeed.
12. Designed with Research
A logo designer will ask you questions when you first hire them. They will ask you questions about your company and what you are looking for. They will also look at logos from similar businesses to yours. They can then create a unique and improved logo with the help of research.
It's easy to mistakenly believe that a logo is just an image or a word. Young business owners may try to draw a picture or use clever phrases. A logo is not just a picture or word. It is something unique. Professional logo designs will demonstrate how important and special it is.
13. Design details are something professionals know.
Logo design is all about color, typography, and shapes. It would help if you created multiple sketches and iterations before focusing too much on the color. While some will be slightly different from others, the little details can make a design stand out.
A leading logo designing agency in Singapore states that you must ensure that the logo will be compatible with all media, including print production. A logo can take several days or even weeks to create. It will take longer if you have experience in these areas, or you might end up with something that needs to be corrected.
How Can You Make An Excellent Logo?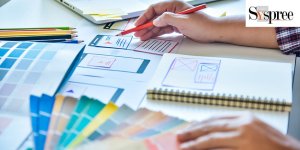 Make An Excellent Logo Design
A logo must be simple to understand and clear to connect with small business customers. Your logo should be simple enough to work across all media platforms and at any size. Small brands are less well-known than large corporations.
They need to have the brand recognition and marketing budget that large businesses do to make it easy for consumers to understand your business. Your logo should communicate clearly who you are and what your company does in a single glance.
There are many things to consider when reducing your brand to one mark. A perfect logo for a small business requires only three things: solid visual elements, straightforward typography, and simple colors.
Conclusion:
A professional logo design is essential to any company or organization. A professionally designed logo is the visual foundation of your brand. It can be a solid first impression for potential customers. It helps to distinguish you from the competition and establishes your brand's identity. So, it is best to always opt for a professional logo design. If you liked this blog, read the post prior to this one on 10 Factors That Make A Perfect Logo.
This content was originally published here.